ARTSA awards Life Membership to individuals who have helped shape the industry
Recorded on September 12th, 2016
Media Release
The Australian Road Transport Suppliers Association (ARTSA) staged its inaugural Life Members Dinner in Melbourne on the 8th September and inducted 13 individuals who have made a significant contribution to the road transport sector in Australia.
Held at the Old Melbourne Gaol the event celebrated those who have either made an outstanding contribution to ARTSA, been a significant supporter of ARTSA's purpose and advocacy or been a game changer through their significant contribution to the road transport industry.
According to the Chairman of the Life Membership Committee and Deputy Chair of ARTSA, Martin Toomey, "we wanted to celebrate the contribution that these individuals have made and to thank them with Life Membership of the ARTSA. Life members are welcome at any of our events and meetings and to also contribute to the technical agenda that is part of the ARTSA. We look forward to their ongoing contribution to our industry"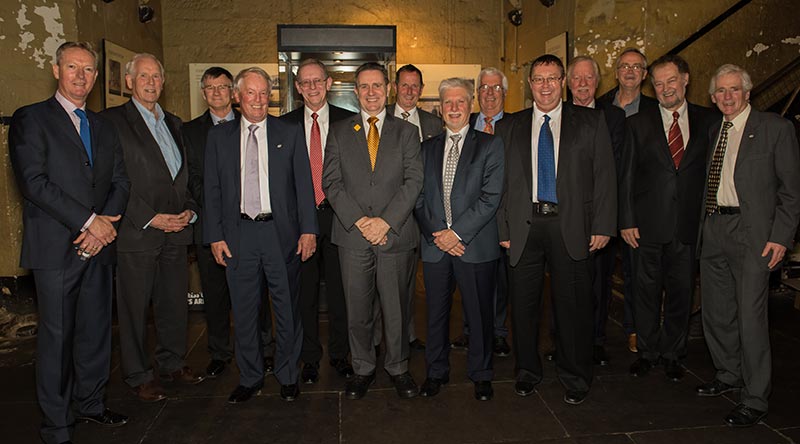 Life membership was awarded to:
David Anderson, Chairman NTC and Chairman PBS Review Committee
Geoff Bartlett, Bartlett Transport Equipment
Les Bruzsa, Chief Engineer, NHVR
Barry Hendry, retired
Ross McArthur, Ross McArthur Consulting
Barry Moore, One Moore Consulting
Bob Pearson, Principal, PRTC
Brian Thomas, Air Brake Corporation
Gerard Waldron, CEO, ARRB Group
Colin White, Whitehouse CV
Ian Wright, Ian Wright and Associates
Two additional awards were made to the current Chairman of ARTSA, Dr Peter Hart and its Executive Director Rob Perkins for long standing service to ARTSA.
Martin Toomey noted that two awards were held over for the next ARTSA meeting on the 24th November where Guy Maklan, long standing engineer for Detroit and David Jenkins formerly of Gough, Marshall Lethlean and Volvo will be inducted.
Photos from the Life Members Dinner can be viewed here.
For further information contact Rob Perkins, Executive Director, tel 0411 402 832, exec@artsa.com.au