ARTSA's LinkedIn and Facebook pages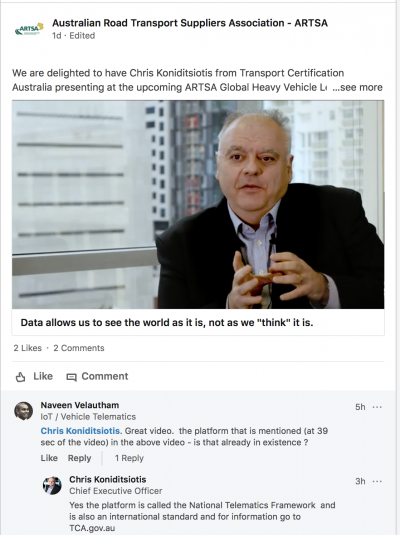 LinkedIn and Facebook helping ARTSA spread the word
ARTSA are proud to announce our new LinkedIn and Facebook pages, and we invite all our members to connect with us.
LinkedIn https://www.linkedin.com/company/australian-road-transport-suppliers-association-artsa/
Facebook https://www.facebook.com/ARTSADATA/
These platforms with provide a great way for you to communicate with us and each other. So to keep up to date, FOLLOW us on LinkedIn and LIKE our Facebook page.
Over the next few weeks we are releasing more new video interviews in support of our Global Heavy Vehicle Leaders Summit being held on the 8th May. With some of the iconic figures and thought leaders of the Australian heavy vehicle industry featured in the videos, it gives you a taste of the content we will cover at the Summit.
Our latest video features Chris Koniditsiotis, CEO from TCA, who has some very interesting things to say about connected data. Go take a look and then book your Summit spot for the 8th May. There are more to come in the next few weeks.
Remember, ARTSA members get a two for one ticket offer and also an exclusive PBS report that will only go to delegates and ARTSA Data customers. Ask me how if you are not sure how to claim your second ticket.
As Chris says in the video, "I looking forward to seeing you and talking with you at the Summit on the 8th May."
regards
Rob Perkins
Executive Director
Australian Road Transport Suppliers Association Inc
exec@artsa.com.au
www.artsa.com.au
tel 0411 402 832