ARTSA Matters October 2018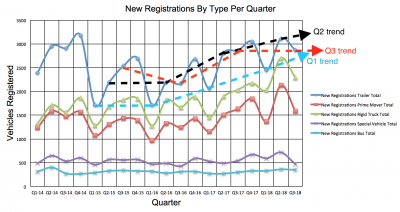 ARTSA Data update
ARTSA Data registration report for end September 2018
Third quarter (Q3) new registration data to end September 2018 shows a flattening of growth in the heavy vehicle sector (GVM >4.5 tonne) following strong growth that commenced at the beginning of 2016. The ARTSA Data shows Q3 growth flattening for new trailer registrations with a similar trend for prime movers. Rigid vehicle new registrations appear to be maintaining their growth. The ARTSA Data September quarter report is here. For those wanting more details ARTSA provides extensive reports for a fee. You can contact Rob Perkins about these reports at exec@artsa.com.au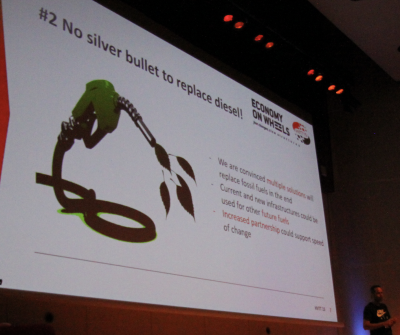 HVTT slides
Hannover Commercial Vehicle Fair and HVTT15 conference in Rotterdam
These two events were back to back this year and close to each other. I visited both. In short:
• Europe is 100% committed to the electrification of the road fleet for short haul and is trying to work out if long haul can also be converted in the near future
• Connected vehicles was the buzz word at Hannover with plenty of exhibitors promoting their wares
I will give a full report in our 22nd November meeting at the LaTrobe Golf Club and we can discuss the significance of these kinds of initiatives to Australia. We will also cover the new Office of Future Transport Technologies, and what that might mean not only for industry, but the existing (and somewhat competing) organisations such as NTC and BITRE.
The HVTT15 (Heavy Vehicle Transport Technology 15th biennial conference) papers are here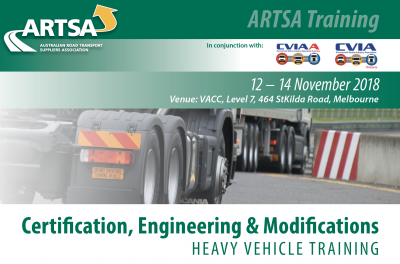 ARTSA training
ARTSA Training – Certification, Engineering and Modifications – 12 to 14 November in Melbourne
As mentioned last month, this training is led by Peter Hart and with other presenters from ARTSA and CVIAA. One day on Certification, one on Truck and Trailer Engineering and a third on Modifications.
The course is unique in that training of this type and depth is not available elsewhere. ARTSA, CVIAA and VACC members receive a discount. Details of each of the three days are here and you can sign up by completing the application form on the final page or enrol on-line at Eventbrite.
To obtain the member discount use the Promotional code of ARTSA2018 on the Eventbrite site.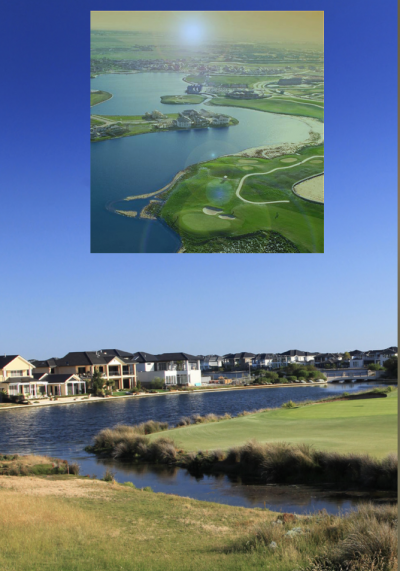 Sanctuary Lakes, Point Cook
Calling all heavy hitters – golf on the 2nd and 22nd November
The HVIA / ARTSA Shoot out!
Had enough of work and want to stretch the legs and hit a few balls at Sanctuary Lakes (Pt Cook) and also LaTrobe Golf Clubs (Alphington)? Well…..
The HVIA Golf Day is on the 2nd November at Sanctuary Lakes. They have invited ARTSA members to join in at member rates. So sign up and let's take the HVIA trophy home on the day! Details are here and you can sign up on-line. Get a foresome together and storm the course!
Having won the HVIA/ARTSA shoot out, you can then bring the trophy along and have a relaxed afternoon round at LaTrobe in Alphington on the 22nd November, following the morning ARTSA meeting and lunch that day. More on that meeting (and LaTrobe golf below).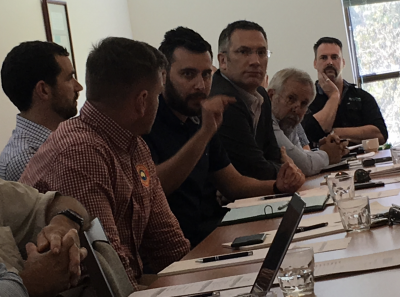 ARTSA Meeting November 2017
ARTSA 22nd November meeting at LaTrobe Golf Club
This is our Christmas meeting. Commencing at 8.30am and closing with a traditional Christmas lunch at 12.30pm. It is free for members provided you advise your attendance to exec@artsa.com.au
The agenda will cap off the year with updates on a host of issues from Canberra, NHVR, ARTSA Strategy, ARTSA Data, Brake Calculator project, Hannover and HVTT report, agenda for 2019 and more.
Held at the LaTrobe Golf Club in Melbourne it is a must attend wrap of the issues for the year and a stake in the ground for 2019 as well as an important networking catch up for members.
For those with stamina we can also arrange a round of golf in the afternoon following the lunch. It is a beautiful historic course on the Yarra at Alphington. To register you interest for this afternoon golf hit out email me at exec@artsa.com.au
Who knows, we might even offer as a prize the HVIA golf trophy!
regards
Rob Perkins
Executive Director
Australian Road Transport Suppliers Association Inc
exec@artsa.com.au
www.artsa.com.au
tel 0411 402 832