ARTSA Matters mid February 2019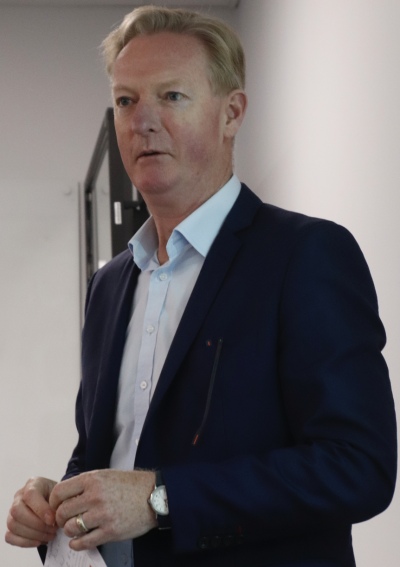 ARTSA Chair Martin Toomey
ARTSA elects new Chair and Executive
At Tuesday's AGM and quarterly meeting members elected a new Chair, 2 Deputy Chairs and an Executive team to take ARTSA into a new era.
Peter Hart stood down after 11 years as Chair and handed the reins to Martin Toomey, Managing Director of Transport Equipment Australia.
Rob Smedley of Smedley Engineers and Luke Callaway of Hendrickson were elected as Deputy Chairs. The Executive Committee also consists of Wayne Baker (Bartlett), Marcus Coleman (Tiger Spider), Bob Edwards (TEAM), Sam Ellis (Jost), David Frazer (Haldex), Simon Humphries (Isuzu), Rachel Michaud (Knorr Bremse), Ian Thomson (BPW Transpec) and Colin White (Whitehouse).

ARTSA meeting
Lights, camera, actions…..
Our quarterly meeting following the AGM covered a range of topics including
- ARTSA Data Rigid truck market analysis
- Brake Calculator project
- PBS explained
- ARTSA Institute
- Life member interview: a chat with Guy Maklan
Minutes and actions (no lights, one camera, lots of actions!) from the meeting and the AGM are on the ARTSA website in the members area. Password is hello
You will also find the detailed minutes and papers from the last SVSEG, TLG and IAG meetings. The devil is in the detail!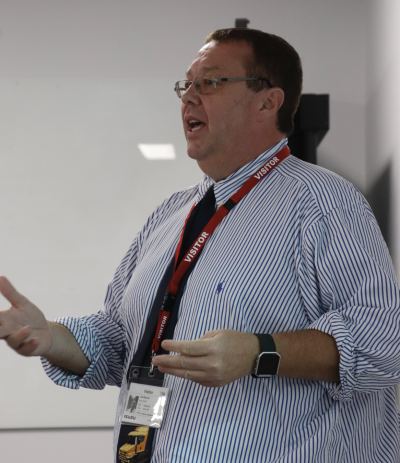 Les Bruzsa, NHVR Chief Engineer
PBS builds its market share
Les described the just over 8000 PBS units, making up around 1600 combinations that joined the PBS fleet during 2018. This is close to a 20% market share for all new heavy vehicles and is a phenomenal achievement for this scheme. ARTSA along with NHVR will update its May 2018 PBS report (download from http://www.artsa.com.au ) and release this at the May Brisbane Truck Show.
Les also announced that the John DuPont led review of PBS tyre analysis would be released before the end of the month. The report has options but does not make recommendations as to the preferred scheme. The NHVR will seek industry feedback before finalising.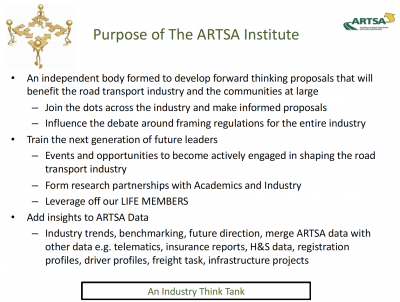 ARTSA Institute
The meeting was a soft launch of the ARTSA Institute and the concept of a research driven, heavy vehicle focused institute. It will look at the bigger picture in terms of where the economy, business and ultimately logistics is headed including the future electrification of the fleet, the IoT and much more. It is an exciting concept and one that will again set ARTSA apart and provide new and unique value to not only ARTSA members but the overall economy as a whole. A paper on the Institute is also in the members area of the website.
Next meetings
The next scheduled meeting is the 16th May at the Brisbane Truck Show. The meeting is jointly run with NBTA and will be from 3pm to 5pm with drinks to follow.
Future meeting details can be found on the ARTSA site at http://www.artsa.com.au/program
regards
Rob Perkins
Executive Director
Australian Road Transport Suppliers Association Inc
exec@artsa.com.au
www.artsa.com.au
tel 0411 402 832