ARTSA Matters May 2019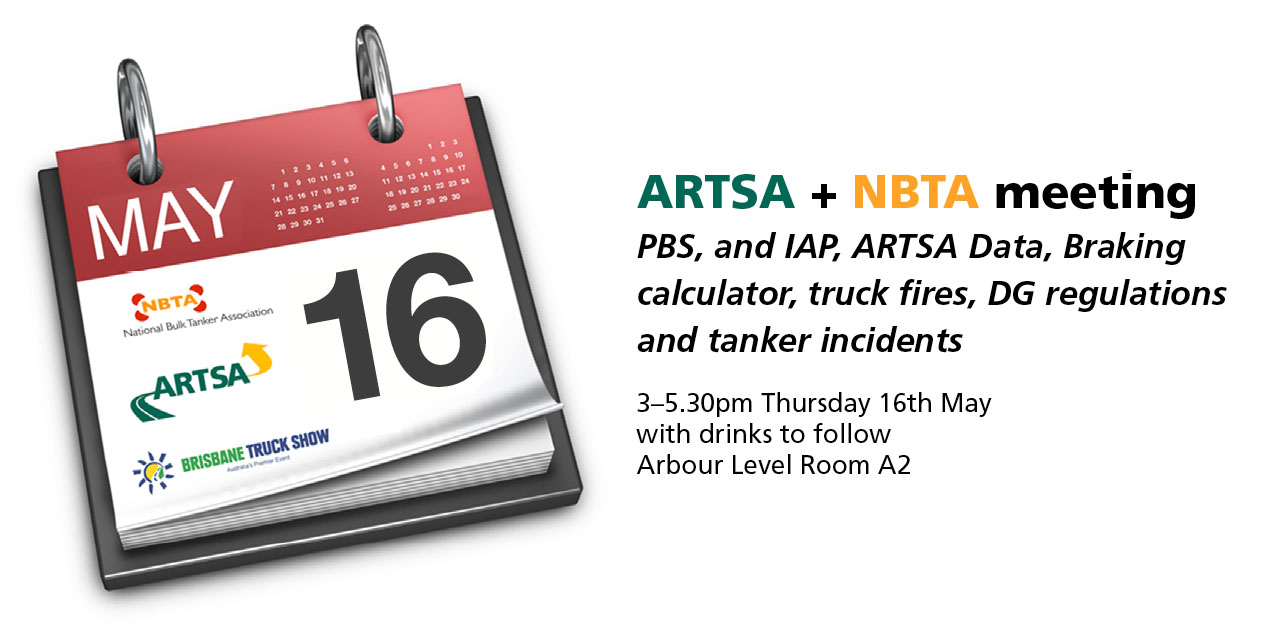 Brisbane Truck Show Meeting
Join ARTSA Chair, Martin Toomey at our traditional Brisbane Truck Show meeting which is held jointly with NBTA. We have an informative agenda with guests from the NHVR, NTC, AustRoads, NEVDIS and TCA as they will cover the key issues across heavy vehicles and bulk tankers.
There will be several reports released covering PBS and IAP, as well as discussions and updates on the ARTSA Institute, the Brake Calculator Project, truck fires and ARTSA Data.
The meeting concludes at 5.30pm with drinks and canapes provided by TIEMAN Tankers.
To attend the meeting you need to BOOK HERE.It is free to ARTSA members by using the promotional code ARTSA2019 on the ticketing page.
Remember that you also need to obtain a ticket to the Brisbane Truck Show to get into the Brisbane Convention Centre so you can then attend the meeting.
Book a ticket both for the Show and our meeting now as this is a hugely popular event and 3pm is a good time to take a break from the show and listen to some informative presentations and have a drinks with colleagues at 5.30pm.

Truck Fires - Causes and Prevention
Tickets are selling fast to the Heavy Vehicle Fires conference on 15 August at Royal Randwick in Sydney.
The conference will bring together experts, policy makers, manufacturers, fleet managers, transport operators and component suppliers to share their experience on what is one of the largest claims categories for insurers in Australia. The event is expected to attract over 150 participants.
Dr Peter Hart said that truck and bus fires are much too prevalent and the causes are generally well known but their understanding and prevention has been sadly lacking. It is time that more was done to promote the causes and opportunities for prevention."
During the conference an updated version of the ARTSA publication written by Peter called Why Heavy Vehicles Catch Fire will be released.
Registration is now open and ARTSA members can enjoy a significant discount by using the promotional code ARTSA2019 on the ticketing page.
regards
Greg Rowe
Executive Director
Australian Road Transport Suppliers Association Inc
exec@artsa.com.au
www.artsa.com.au
tel ‭0407 825 132