ARTSA Matters July 2018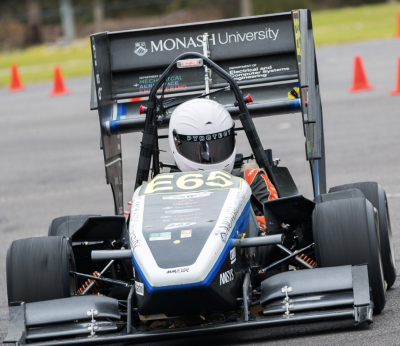 Monash Formula SAE team
ARTSA Monash Uni meeting – 8.30am to 12 noon on 16th August
Ground floor, New Horizons building 20
Our annual exchange with Monash researchers, including the Monash Formula SAE team and how they won the world championship at Silverstone. We cover the latest engineering research projects from Monash and also ARTSA's agenda including:
• Strategic review of ARTSA and its direction
• Replacement parts initiative
• ARTSA Data and the upcoming data day on 4th September
It's a chance to give input to the strategy review and to learn from others. To attend it's free for members – just email me on exec@artsa.com.au to reserve a spot.
Parking is in the multi deck (building N1) on the north west corner of the uni.
The New Horizons building 20 is next to the multi deck. Paid meter parking is available in all central rows on the ground floor (400+ spaces). You need to look for parking signs that have a large green P with "Ticket" underneath. Should these areas be full, overflow is available on Level 6. The ticket machines are located on the ground in the open centre space/row of the car park, or payment can be made via the PayByPhone mobile app or web page (www.paybyphone.com). Sorry but it's the uni and parking is complex!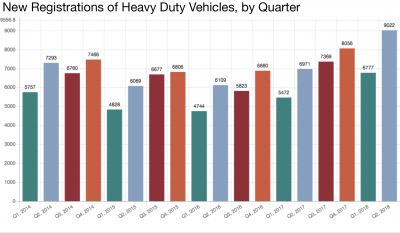 ARTSA Data end June 2018
ARTSA Data Day – 8.30am to 4pm, Tuesday 4th September
Livesaving Victoria, 200 The Boulevard, Port Melbourne
This is our third annual ARTSA Data day. It is a deep dive into heavy vehicle data and its analysis. If you don't know the size and trends in our industry then you are not in the conversation.
ARTSA Data Day is an informative experience in understanding what data is available, what it tells us and how you can analyse it to determine market shares and key trends as well as informing future investment decisions. Not to be missed.
Enrolment is essential and there is a fee for ARTSA members and non members. Registration can be done on line or you can fill out a form and do it the old fashioned way and email to me
The promotional code for ARTSA member discount is ARTSA18
See you there on the 4th September or you might just miss out!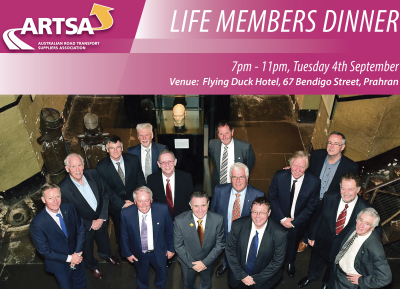 ARTSA Life Members dinner
ARTSA Life Members Dinner – 7pm to 11pm, Tuesday 4th September
Flying Duck Hotel, 67 Bendigo Street, Prahran
This is our second Life Members Dinner and a chance in a private dining setting, to catch up with old friends and their partners. We will be awarding new life memberships to a number of individuals who have been nominated by the Executive Committee as outstanding contributors to ARTSA and the heavy vehicle industry.
To attend and support our long serving contributors, you can purchase a ticket here. Its a partners event and at $110 per head it is reasonably priced so please take that opportunity to bring your partner along and celebrate with the old and the new life members.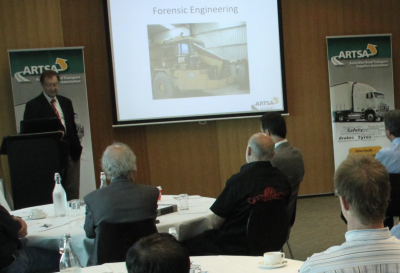 ARTSA Training in action
New training and information courses set to be announced
Dates in late October are foreshadowed for three days of training based on modules that will cover truck and trailer engineering, certification, modifications and a new module covering the background to heavy vehicle sector. Details will be announced next month with booking details and venues.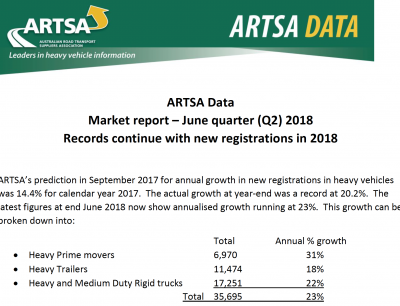 ARTSA Data June free report
ARTSA data- free stuff
Every quarter we provide an market report on the truck and trailer marketplace. The June quarter report is available as a free download from the ARTSA site
The year end results have shown a 23% annual grown compared with the previous year, with prime movers leading the charge at 31%. Overall there were over 35,000 new heavy and medium duty vehicles newly registered during 2017/18. This is a record since ARTSA began reporting at the end of 2013. Trends suggest that the growth still has some way to go and the ARTSA Data Day will delve into those trends in some detail.
For now that is the July report and I look forward to seeing you at our future events. If at any time you would like to discuss issues that are relevant to your business then please give me a call. An engaged member is a good member!
regards
Rob Perkins
Executive Director
Australian Road Transport Suppliers Association Inc
exec@artsa.com.au
www.artsa.com.au
tel 0411 402 832