ARTSA Matters August 2018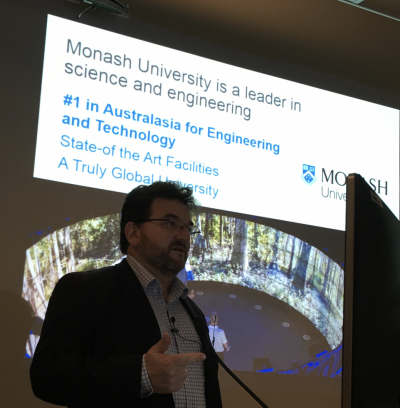 Monash meeting this Thursday from 8.30am until noon
The agenda for the meeting covers topics including:
• Brake Calculator (more below)
• Braking intervention
• Replacement parts
• Vehicle certification (more again below)
We have the Monash Formula SAE team giving us their feedback on how their car performs and their tips on how we can help them go faster!
To join in this meeting (if you have not already) and hear the other agenda items let me know at exec@artsa.com.au
It's free for members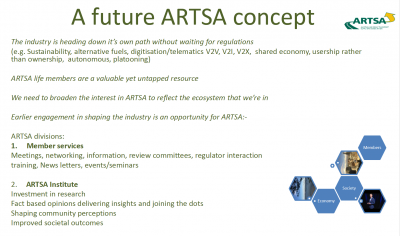 ARTSA Strategy Review
Earlier this year the ARTSA Executive agreed to review the focus and conduct of ARTSA. A tune up for 2019 and beyond. They have been asking questions including:
• What is our world looking like and where is it headed?
• Can we be more of a steerer than a passenger?
• How is ARTSA placed to play a role going forward?
• What resources do we need to carry out any new role?
• What role might that be?
Challenging questions. The Monash meeting will brief members and seek their feedback.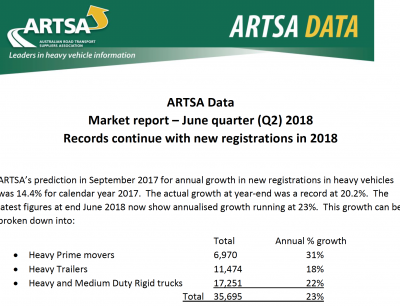 ARTSA Data and ARTSA Data Day on 4th September
It's not too late to join in this day. We have new insights from PBS Data and also make/model data for most truck brands.
The devil is in the detail with stats and our ARTSA Data collection is growing in a number of ways. You will get a briefing on Thursday, but the real detail is on the 4th September. You can enrol here.
Members enjoy a 50% discount by using the promotional code ARTSA18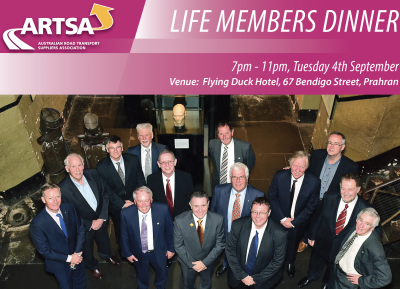 Life Membership is for life – 4th September dinner to celebrate new life members
One of the strengths of the heavy vehicle industry is the expertise that resides in our many long serving technical folk. However as time moves on those ranks are thinning due mainly to retirements. ARTSA's Life Members program is designed to give both those people who are close to or already retired as well as others who have made an outstanding contribution to be recognised and celebrated. It also opens the door for their on-going involvement through ARTSA on the numerous worthwhile projects where expertise and "been there before" wisdom is vey handy.
Join us for dinner on the 4th September when we induct the next round of ARTSA Life Members. Bring your partner and enjoy the company of many of your old friends. You can enrol here.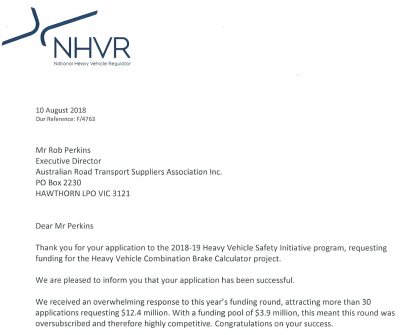 ARTSA's braking calculator project funded under the NHVR Heavy Vehicle Safety Initiative Program
The stopping distance and brake balance performance of heavy vehicles is of fundamental important to road safety. There is no Australian calculation tool that allows practitioners and vehicle owners to access a sophisticated brake calculation tool for the purpose of predicting compliance of a combination vehicle with Australian requirements. These requirements arise from the Regulations in the National Heavy Vehicle Law and in the National Heavy Vehicle Modification Code ('VSB 6') section G.
ARTSA has been successful in applying for funding through the NHVR to support this project. The Monash meeting will outline this work and also set up a braking advisory group to help steer this work.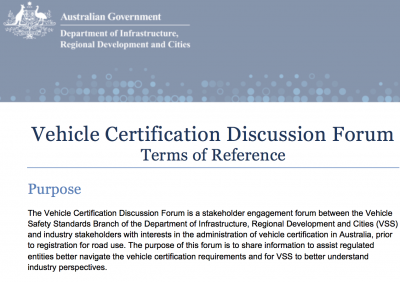 Vehicle Certification discussion forum
The Federal Government (through DIRDC) has set up a Vehicle Certification Discussion forum to untangle (hopefully) the issues around vehicle certification issues under the Road Vehicle Standards Act. The first meeting of this discussion forum is the 4th September and Peter Hart will attend to represent ARTSA.
Terms of Reference for this forum are here. Our meeting will discuss this forum and its objectives.
That is all for now. Enjoy the upcoming meetings and Life Members Dinner and I look forward to meeting many of you at these events. If you have any issues or queries at any time give me a call and I will do my best to help.
regards
Rob Perkins
Executive Director
Australian Road Transport Suppliers Association Inc
exec@artsa.com.au
www.artsa.com.au
tel 0411 402 832